Resco.next 2018 – the Mobile CRM event of the year is back!
Registration for the resco.next Atlanta 2018 conference is open. The annual event, led by mobile CRM experts from Resco, will take place in Atlanta, Georgia (USA).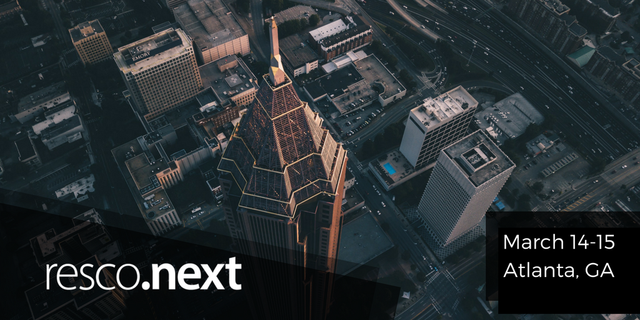 Bratislava, Slovakia – December 11, 2017 – Resco welcomes all mobile CRM enthusiasts to meet at one of the most specialized mobile CRM events of the year. March 2018 marks as the only gathering dedicated to Microsoft Dynamics 365/CRM and Salesforce leaders in the mobile CRM realm.
Resco invites its existing/potential partners and customers to Atlanta, Georgia to encourage the understanding of offline business mobility among many other topics. Attendees can expect to facilitate the exchange of ideas and reinforcing their skills thanks to two tracks that are business-oriented & technical.
– Take advantage of the Early Bird registration and get your conference pass at a discount until January 15th, 2018 –
Resco.next is an educational conference dedicated to all mobile CRM enthusiasts from many diverse sectors. Get in-depth product knowledge about Resco Cloud for Microsoft Dynamics 365/CRM & Salesforce, new product announcements, marketing sessions, and more. Expand your insights about the CRM market and learn how to mobilize processes to move your business forward. Resco's CEO, Radomir Vozar
To be closer to Resco's community, the organizers decided to traditionally return to both, the United States and to Europe. One conference being in 2017 (Europe), and the other held in 2018 (USA).
The US edition: Atlanta, Georgia | March 14th – 15th 2018
What can you gain from Resco.next?
valuable insights to all ins and outs of Resco's product Resco Cloud (mobile app/desktop app/Woodford)
discussion based sessions and one-on-one consultations
educational business and technical sessions, including customer stories, the latest and most favorite features of Resco's technology
tips and tricks for mobile sales & field service scenarios, integration and customization possibilities
new products announcements and showcasing
networking opportunities
The USA conference in an improved format, will cover more than the technical aspects of Resco's products and solutions. Sessions regarding basic Mobile CRM modifications, more advanced classes for developers with expert programming skills who seek a higher level of customization, will be matched by substantial business-oriented panels. Invaluable to partners – resco.next will provide insights on how Mobile CRM helps business profit, and create even more business opportunities.
In the 2017 Amsterdam (EU) conference, we set out to make for certain that we would expand. Expand in every way possible, and we only wish the same for our USA 2018 resco.next conference. You can expect more proactive direct consultations and insights from our senior developers, business consultants, marketing expertise, and valuable insights from existing customers and successful partners who will reveal their stories and experiences,explains Resco's CEO, Radomir Vozar
Find out about all the sessions and agenda for the two day event and register today!
About Resco Mobile CRM
Resco Mobile CRM is the all-in-one mobile solution that gives users around-the-clock access to CRM data wherever they are. It can be utilized as a mobile client for CRM systems, such as Microsoft Dynamics 365/CRM, Salesforce, or as a standalone CRM system. It offers full offline functionality, interactive maps, support of custom entities & many other capabilities that make it the product people love to use.
About Resco
Resco, founded in 1999, is one of the global leaders in developing cross-platform mobile software solutions. The team of Resco professionals utilizes its knowledge by designing products for corporate customers, developers, integrators, end users and today, Resco Mobile CRM is utilized by more than 1700 corporate customers around the world.
For more information please visit www.resco.net